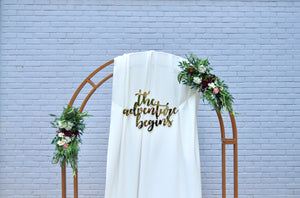 Rustic wedding arch
Sale price Price $200.00 Regular price
With effect from 21 June 2020, we will be pausing instant bookings on our website. All bookings are to be placed through Email (admin@happycrates.sg) or Facebook Messenger, and will only be accepted if there are no conflicting bookings for the same day.
Create a focal point at your wedding with our rustic wedding arch. Bundle includes the following items:

2 x faux floral center piece
1 x gold acrylic sign ("The adventure begins")
1 x white backdrop cloth
1 x rose gold metal arch (measures 1.8m wide, 2.1m tall)
1 x printed tutorial sheet (except for the 'Assemble for you' delivery option)
Choose from the following 4 delivery options:
1. Self collection
2. 1-way delivery / collection (+SGD 50)
Includes 4 days rental
1-way delivery or collection from a Singapore-based location
3. 2-way delivery (+SGD 90)
Includes 1 day rental
2-way delivery for one Singapore-based location
4. Assemble for you (+SGD 130)
Includes 4 hour display
2-way delivery for one Singapore-based location
Set-up and tear down
Only available on weekends and public holidays
Assembling time: 30-45 mins
Requires 2 person to assemble. Arch can be dismantled, but may not fit in the car boot. Ensure sufficient space in back seats for self collection options.
Security deposit: SGD 300